Wednesday, October 27th, 2010
last week's pantry week was a huge success and a little too easy. our fridge and freezer are no longer avalanches waiting to happen but the pantry is another story. any minute there could be a chocolate-covered-blueberry rock slide in there. something has to be done!
so… this week is modified pantry week. the same rules apply with a couple exceptions:
one farmers market trip is allowed so that we get enough veggies and don't contract scurvy.
i took a cue from my friend tiffany and gave certain pantry items "must use" status. then, i bought a few necessary groceries to make that possible. for example, we now have chicken broth, which was the missing ingredient in several of my most brilliant makeshift culinary schemes.
monday night we had sausage and chicken gumbo using this recipe from the best of cooking light. also, the monkey and i made these tasty glazed  pumpkin cookies.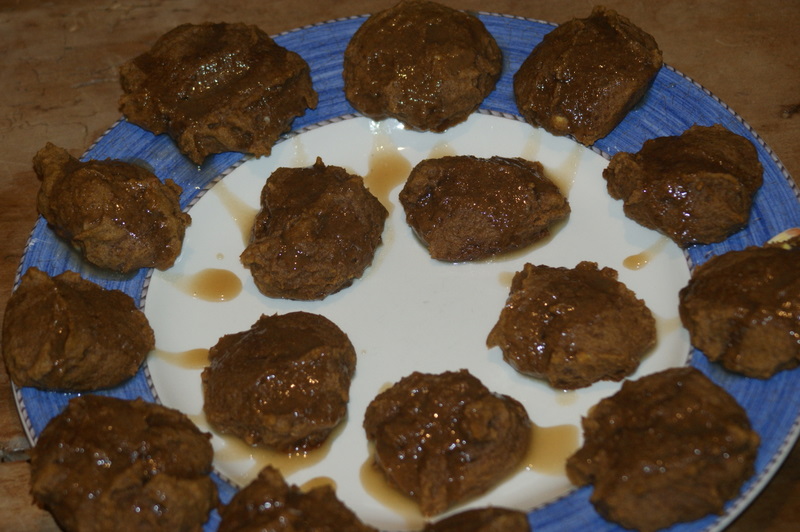 last night we had chicken pot pie using this delicious recipe from edible memphis'  melissa peterson:
2 ready-made pie crusts

1 T veggie oil

6 chicken thighs

1.5 quarts water/chicken broth (i use much less)

2 carrots peeled and diced (substituted red bell pepper)

1/2 onion diced

2 ribs celery, diced

4 T all-purpose flour

4 T butter or veggie oil

1/4 c. milk

1/2 cup frozen peas (i used leftover lady peas)

1/2 tsp. poultry seasoning (i used much more)

salt and pepper

1 egg beaten with 1 T water

2-3 T grated parmesan

in a large pot, heat oil over medium heat. brown chicken thighs, then carefully add water or broth. boil. reduce heat to a simmer. cover and cook till chicken is fall-off-the-bone tender, about 40 minutes.

remove thighs from broth and set aside to cool. add carrots, onion and celery to cooking liquid. simmer until veggies are soft, about 4 minutes. in a small saucepan, heat 4 T oil or butter. whisk in flour to make roux. add roux to veggies and broth. cook over medium heat until mixture thickens, whisking constantly. add milk.

remove skin from cooled chicken. pull meat from bones. shred and add to vegetable mixture. add poultry seasoning and season with salt and pepper. stir in frozen peas.

place bottom crust in 10″ pie plate. spoon in chicken mixture. place top crust and crimp edges. cut 3 vents into crust. brush with egg wash and sprinkle crust with parmesan cheese. bake at 350 until crust is golden brown, about 40 minutes. cool for at least 20 minutes before serving.
tonight's must-use items: black beans, red beans, and canned corn. any guesses?