Friday, June 17th, 2011
the feedback i've received about the reality project falls into two categories. the first resonates most with me and goes something like,
"i love the reality project! it makes me feel better about the domestic disorder that hacks away at my sense of well-being."
the second category of folks confess,
"i truly do not have alcoves in my home that are messy. messes make me crazy. i have to clean them. i have always been this way."
today's submission is from kathi, who seems to somehow fit into both of the above categories. she explains,
i do not function well in disorder. that  does not mean the disorder does not exist – it just merely gets moved around a lot.
who knows what separates those who put things away from those of us who simply step over the crap on the way to something else.  i cannot ponder this right now though because i am debating what is funnier — kathi's picture below, or her cooresponding narrative.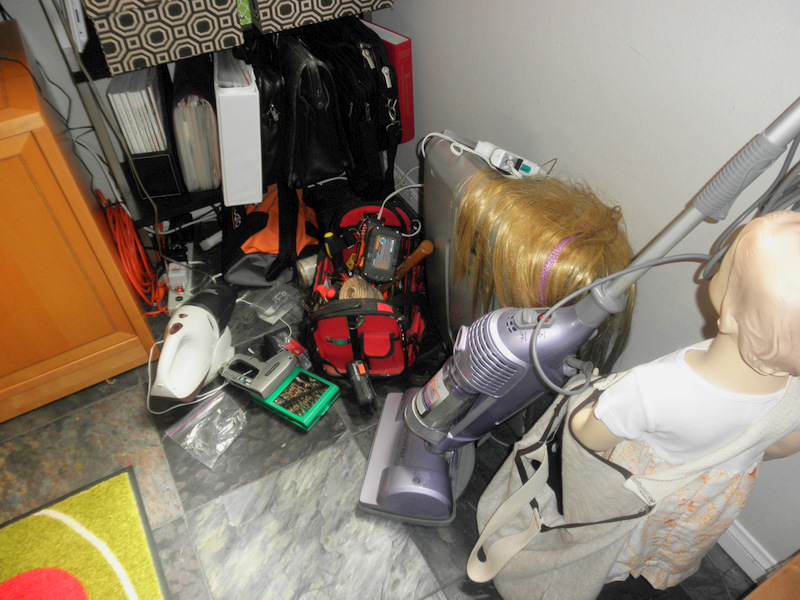 kathi writes,
there is one corner of my house that doesn't get moved around a lot. it truly is a "still life." it contains:
loose screws
a vac steam machine that i fell in love with for two weeks and now never use
a mannequin with a smart tote bag over her shoulder ready to go to town, except she lost her hair
in the mannequin's tote bag is a knitting project that i entirely forgot that i had started
a clean air machine that never gets plugged in (we live in the los angeles area so we certainly could use this)
a dustbuster that i have never used but it is plugged in and draining electricity
a tool bag that i never returned to the garage after a project completed in november of 2010
each of the four black attache cases (on the shelf above the floor) is from a different stage in my career. i will not be returning to any of these stages, so it's silly to save the bags
a magazine organizer (next to the attache cases) holding nine issues of architectural digest from 2008, all dog-eared with ideas i intended to recreate in my home – as if i (a) had time to read them a second time or (b) there were a chance in hell that these ideas could actually work in this life as we know it
and last but not least, a hot glue gun, because i am always trying to keep things "together" despite the gravitational pull toward chaos
that poor mannequin! she has ideas, she's creative, she's handy, she has old identities tucked into little cases, she simply cannot finish all of the projects she's started, she's losing her hair, and despite her craftiest hot-glue-gun attempts, she can't seem to fix those loose screws!
i love her. she is me.